SD-65 Manual Start/Stop Controller for CANbus J1939 Electronic Engines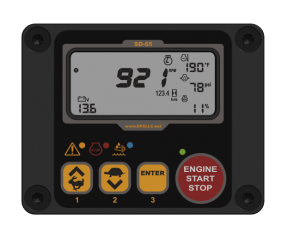 The SD-65 is DFX's entry level engine controller for electronically controlled J1939 engines requiring simple engine start/stop in a compact form factor. This low-profile controller measures only 2.77" x 3.52" x 1.5" and will easily install into a 2.55" square opening. The SD-65 is housed in a heavy-duty anodized aluminum enclosure which is encapsulated with an industrial potting compound making the SD-65 weatherproof and resistant to vibration. The SD-65 is ideal for smaller engines; however, the SD-65 has technology to easily control larger more sophisticated engines.
The sunlight readable LCD is optically bonded with an anti-glare coated strengthened glass for optimal clarity and durability. The SD-65 LCD display uses both segmented liquid crystal and dot-matrix technologies. LCD displays engine parameters, fault codes as well as plan text descriptions for menu descriptions, engine fault codes and the ability to display custom parameters. Each LCD display is equipped with RGB backlight LEDs for night vision. LED backlight color can be easily configured via the menu system to the customer preference.
The SD-65 unique modular design simples wiring by utilizing a single CANbus extension cables with M12A waterproof connectors. These plug and play cables consist of a power, ground and shielded CANbus J1939 wires which can be extended up to 100 meters away from the engine. When utilizing our splitter connectors adding additional CANbus based products such as IO module modules, audio buzzers, keypads, wireless remote control or even telemetry modules an easy task.
Each DFX controller system consists of our engine control interface which installs on or near the engine utilizing our custom engine specific wiring harness to engine control interface IO module and the HMI LCD display. Our engine control interface connects to the HMI display via a single easily to install cable. In addition to controlling the engine the engine control interface also has IO capabilities with up to 3x inputs and 2x outputs. Inputs can be used as a fuel sender input, auxiliary shutdown input, or as an engine start lockout protection. Outputs can be used as high-power auxiliary power output, a pre-start audible alarm or an engine shutdown alarm. Inputs / outputs can be configured with custom software on special request.
The SD-65 LCD has an operating temperature rated to -30C to +80C, however low temperature range is increased to -40C when controller is in use. Each SD-65 is equipped with a display heater which automatically activates anytime the controller is active and the outside temperature is below 40F
The SD-65 is completely waterproof and can be easily integrated into the end equipment with a simple metal cutout, however customers needed additional protection from extreme conditions or protection against vandalization can utilize our optional NEMA 4X polycarbonate enclosure with clear door. This NEMA enclosure measures only 5" x5" x3" is extremely durable, UV resistant, Chemical resistant can be easily customized to each customers unique requirement.
The SD-65 is a keyless engine start/stop controller with the unique ability to lock out unauthorized personal from starting the engine. Any keypress on the controller will wake up the display, however only authorized users can start the controller utilizing a simple 4-digit pin.
Features
Designed for J1939 Tier 5 compliant industrial engines with DEF regen indication
Compact, heavy-duty design potted inside an aluminum housing
Sunlight readable high contrast LCD with a heater for extreme cold conditions and multicolor RGB backlight
Standard configurations displays 15 CANbus J1939 engine parameters
Simple installation utilizing a single 5 wire cable and waterproof M12A connector up to 100 meters away from the engine controller
System is modular to allow simple accessories additions
Programmable throttle types:
Variable Speed
2-State switch
3x State switch
4x State switch
SD-105 Automatic Start/Stop Controller for CANbus J1939 Electronic Engines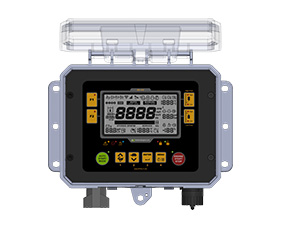 ME-765-HP Manual Start/Stop Controller for Mechanically Governed Engines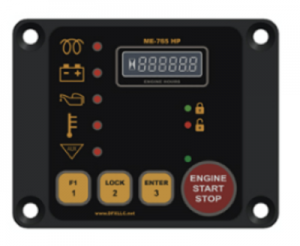 The ME-765HP is a universal compact manual start engine controller for mechanically governed  engines with integrated six-character engine engine hourmeter.
The status of all typical engine systems is displayed with LEDs. Each status input can be configured to be display only or monitor and shutdown the engine when it faults. Switch inputs are all configurable to be faults when open or faults when closed. It shuts down the engine and shows the reason for the shutdown for OIL PRESSURE, TEMPERATURE, ALTERNATOR, and two AUX Inputs.
For application requiring engine start protection the SD-65 can be enabled in software to utilize a passcode number to start the engine using the buttons on the front panel.
LEDs on left side of the ME765-HP shows preheat activation timing indicating when to start engine and status of the switches installed on the engine; battery charge, low oil pressure switch, high temperature switch and two auxiliary switches. All normally closed switched inputs which in most case will be the alternator charge (Battery Symbol) and oil pressure (Oil Can Symbol) will be lit solid after LED self-test. When engine is started the controller will ignore all shutdown inputs for 10 seconds so that the engine can build up oil pressure and for the alternator to start charging. After 10 seconds from the time the starter motor disengages the ME-765-HP will start monitoring inputs. When the controller senses a switched input while the engine is running the engine will shut down and only one LED will be lit indicating the exact failure (first Fault Indication). In some cases, the controller may be programed as indication only and no shutdown or no shutdown for battery charge which is a noncritical failure for the engine to shut down. For the engine to shut down the controller need to sense the input for .5 seconds before the controller recognizes the input as a shutdown.
The ME765-HP will have passcode pin protection to prevent unauthorized access to starting the engine. Lock/Unlock status is indicated on the front panel with Red and Green LEDs with corresponding Lock and unlock symbols. If the controller is locked the operator will be required to enter a 5-digit pin using the 1, 2 and 3 buttons on the bottom of the controller. An example pin could be 11321. If the incorrect pin is entered after the 5th digit the LOCKED symbol will blink red. PIN can be from 0 to 10 characters in length. A press of the Run/Stop button erases any PIN digits in process and permits user to re-start the input process. The LOCKED LED will blink if user presses more than 6 digits when entering the PIN. The controller will go to sleep if user continues to enter digits. If the correct pin is entered the UNLOCKED symbol will light up green and the RED LOCKED symbol will turn off. Controller will stay unlocked until the lock button #2 is pressed which manually locks the controller or the configurable "unlocked" time expires. The Green UNLOCKED LED will be on any time the controller is unlocked.
The microprocessor-based solid-state design uses semiconductors instead of outdated electromechanical relays to ensure reliable high current switching.
The ME765-HP allows each system to be field programmed and configured to suit the customer's unique requirements. Parameters are programmed using an easy to operate configuration program from virtually any laptop or computer.
Features and Benefits
• Keyless engine start / stop
• Passcode Pin protected
• Hour Meter. Six character 99999.9 Hours
• Controller installs into 65mm x 65mm opening
• Field Configurable and Field Programmable.
• Low current draw in sleep mode.
• Simple plug-and-play installation customized to the specific application allows rapid OEM equipment completion.
• Versatile design enables customization for customer's specific applications
• Optional CAN Bus to support DFX peripherals
• Optional MODBUS for SCADA enabled installations.
Specifications
• Operating Voltage: 8 to 30 VDC
• Operating Current: 15 mA @ 12V when sleeping (7 mA @ 24V).
• Operating temperature: -22° to 176° F (-30° to 80° C)
• Storage Temperature -50° to 185° F (-45° to 85° C)